Fifa World Cup is one of the Most Popular Sports in the World. Every Year Fifa World Cup break its Record in term of Views. Since World Cup is Watched by Billions of People. It Creates Wonderious opportunities for Companies to Advertise their Products.
So, In this Article, we are Going to see the List of Fifa Worl Cup 2023 Sponsors. Sponsors help to support the World Cup financially and it helps to promote their brand as well. Qatar Fifa World Cup 2023 Cost about $200 Billion.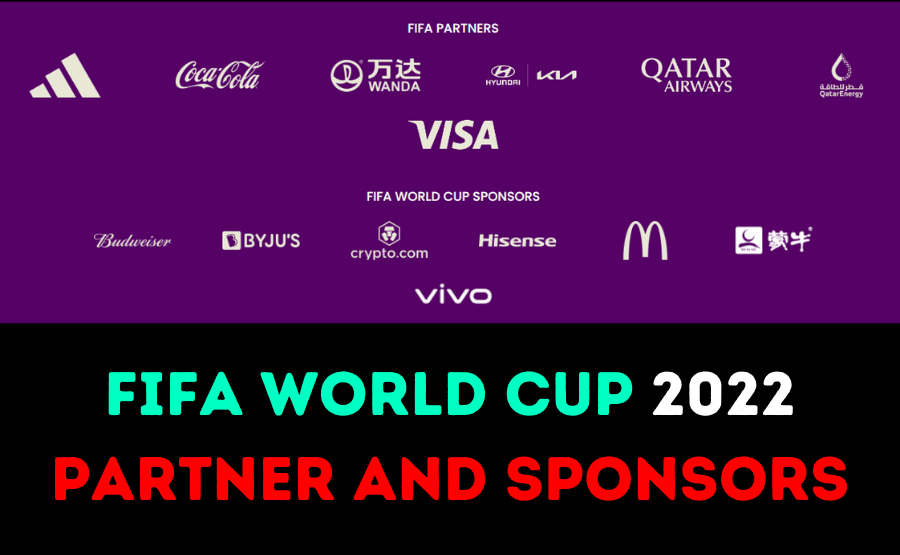 List of Fifa World Cup 2023
Many Giant Companies have dived into the Sponsors List o Fifa World Cup 2023 including some Big Names such as Adidas, Coca-Cola, Hyundai, Visa, etc, and Some New Names such as BYJU'S, Crypto.com, etc. Coca-Cola has partnered with the World Cup since 1974 and has extended its partnership until the 2030 World Cup.
Below is a List of Fifa World Cup 2023 Partners and Sponsors
Adidas
Coca-Cola
Wanda Group
Hyundai
KIA
Qatar Airways
Qatar Energy
Visa
FIFA WORLD 2023 CUP SPONSORS
Budweiser
BJYU'S
Crypto.com
Hisense
McDonald's
Mengniuir
Below, are the list of Fifa World Cup 2023 Sponsors and Partners who Support Fifa to Organize the World cup in Qatar.
Let's see more about World Cup Sponsors and their Work.
1.

Adidas
Adidas is a German multinational corporation founded and located in Herzogenaurach, Bavaria, that produces and designs footwear, clothing, and other accessories. It is the most popular maker of sportswear in Europe and is the second-largest in the world, second only to Nike.
2. Coca-Cola
The Coca-Cola Company is an American multinational beverage corporation that was founded in 1892. It is best known as the manufacturer of Coca-Cola. It is also a producer of other beverages. Coca-Cola Company also manufactures, sells, and markets different non-alcoholic drink concentrates, syrups, as well as alcohol-based beverages.
3. Wanda Group
Wanda Group, or the Dalian Wanda Group, is a Chinese multinational conglomerate that was founded in Dalian, Liaoning, and with its headquarters in Beijing. It is an independent property developer and the owner of Wanda Cinemas and the Hoyts Group.
4. Hyundai
Hyundai Motor Company often abbreviated as Hyundai Motors and commonly known as Hyundai, is a South Korean multinational automotive manufacturer with its headquarters in Seoul, South Korea. Hyundai Motor Company was founded in the year 1967.
5. Qatar Airway
Qatar Airways is the nation's airline for Qatar. It is the national airline of the State of Qatar and one of the biggest aviation industry successes.
6. Qatar Energy
Qatar Energy also known as Qatar Petroleum is a government-owned petroleum company from Qatar. It is the sole operator of the entire oil and gas industry in Qatar which includes exploration refining, production, transport, and storage. The President and Director of Operations are Saad Sherida al-Kaabi Secretary of State in charge of Energy Affairs.
7. Visa
Visa is an American multinational financial services firm with its headquarters in San Francisco, California. It facilitates electronic money transfers across the globe, most often through Visa-branded credit cards debit cards, debit cards, and Prepaid cards. Visa is among the most valued companies in the world.
8. Budweiser
Budweiser is a pale American lagerthat is which is part of AB InBev. It was first introduced around 1876, by Carl Conrad & Co. of St. Louis, Missouri, Budweiser has become a hugely-selling beer company across the United States
9. BYJU'S
BYJU'S is a leading global education technology company offering highly adaptable efficient, engaging, and enjoyable learning solutions to over 150 million students across the globe. The company was established in India in the year 2011, BYJU's goal is to make the highest-quality education accessible to all students.
10. Crypto.com
Crypto.com is an exchange provider for cryptocurrency with its headquarters in Singapore. In 2023, the business has more than 50 million users and 4000 employees. The official cryptocurrency of the platform is Cronos.
11. Hisense
Hisense Group is a Chinese multinational electronics and major appliance manufacturer with its headquarters located in Qingdao, Shandong Province, China. Televisions are among the major products of Hisense and it has been the most popular TV manufacturer in China in terms of market share as of 2004.
12. McDonald's
McDonald's Corporation is an American multinational fast food chain as well as a real estate firm, established in the year 1940. It was originally a restaurant owned by Richard and Maurice McDonald, in San Bernardino, California, United States
13. Mengniuir
China Mengniu Dairy Company Limited is a Chinese manufacturing and distribution business of dairy products as well as Ice cream. The headquarters of the company is at Hohhot, Inner Mongolia, and produces dairy items with Mengniu. Mengniu brand.