How Hollywood or Bollywood movies make money in 2022. The business model of movie production. Money-making model of Bollywood movies.Case study of the film industry. In this article, we are Going to See How Movies Make Money and What is the procedure Of Making Movies and Web Series.
How Films Make Money in 2023?
A number of Films and Web series are Releasing Every Month. Have you ever wondered why they are Making Those films and How much they are Going to Earn from that film and Web series? So, we are Going to see In a step-by-step process of Making Films and its Business Model.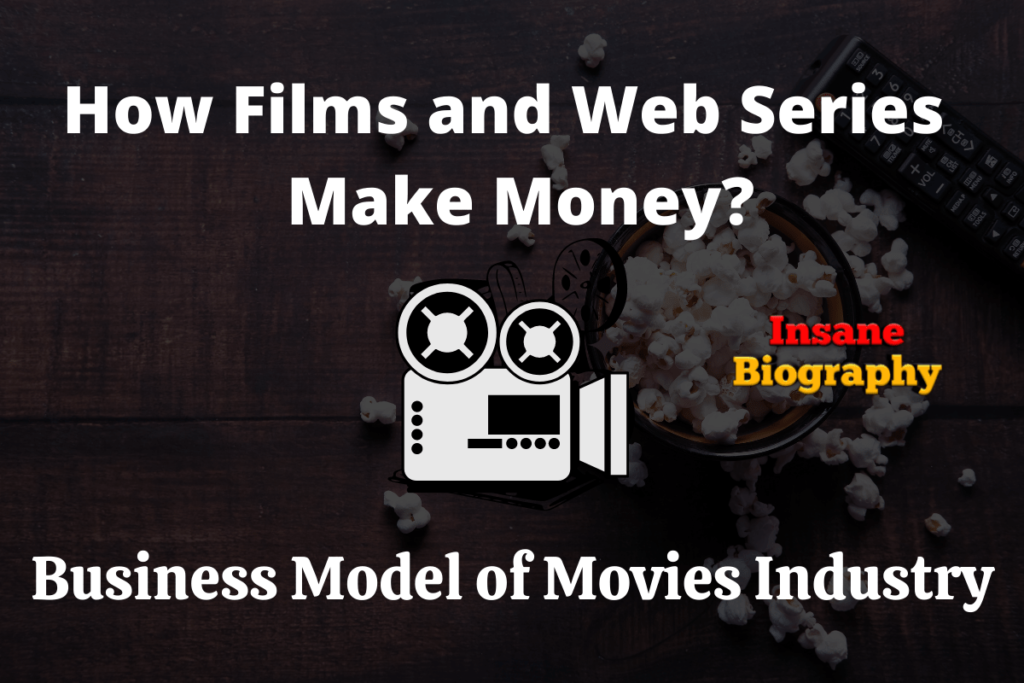 For the making of movies, the Producer plays the most significant role. A producer is a person who invests his money in a movie budget. A movie required a story script, according to the script start cast is arranged i.e who will be the hero, heroine, and other main characters. A producer has to give money to an all-star cast as well as a story writer. Now the script is ready and the star cast is selected, now the matter comes in which places shooting should be performed. A producer has to spend money on different locations where film shooting is performed. After the shooting is performed film editing process starts.
Now, the film is ready on a small hard disk. The producer has to make a decision whether this movie has to sell directly to the distributor or to Collab with them. If the producer sells that movie to the distributor, then it is the total responsibility of the distributor to make a profit with those movies.
What is Distributer in Movies?
Distributors used to distribute the movie copy to different locations i.e cinema hall, multiplexer, mall, etc. Some name big distributor is Yash Raj, Dharma production, fox star, etc. The distributor has to make branding for those movies. i.e to run ads on t.v. ,promotions, banners,etc.
The distributor is divided into sub-distributor according to the different region this sub-distributor have a connection to the cinema hall, multiplexer, and malls in which film is projected. In the cinema-hall margin is 30:70, 30% goes to the cinema hall while 70% to the distributor. But this ratio is not the same in multiplexer in multiplexer first-week commission is 50:50 while it is gradually decreased from the distributer's side. It depends on time 2nd week it become 60:40.
Thus distributors make money by buying movies from the producer. if movies become hits then they will be in profit while they have to face loss.
How Films Make Money from Copyrights?
Not only through the distribution of movies make money but also through their copyright content. Generally, single movies contain 5-6 songs, That song comes under copyright policy. Many telecom Companies use caller tune Of that song, Telecom Company has to pay to movies producer or distributor or has to own their copyrights. maximum profit is under satellites copyright. i.e. on which channel your movies are telecast for the first time it is known as World Television Premiere (WTP). These rights are too costly for these rights movies to make enough money. Some examples of Highest grossing movies.
1. Dangal
Budget 70 crores – collection 2024-2100 crores.
2 Bahubali
Budget 250 – crores collection 1810
Business Model of Film Industry
Hindi Medium movie is made at the expense of 20 crores.
I am the producer and you are a distributor.
I sold it to you for 40 crores.
Here I made a profit of 20 crores.
Then, you spent 10 crores on promotion, marketing, etc.
Overall you have spent 50 crores.
You obtained 15 crores from satellite right etc.
After this, you sent a movie to sub-distributors and they sent them to theatre owners.
Let's say the movie Hindi Medium earned 100 crores.
After paying G. S. T :- 100 * 28/128 = 22 crore.
78 crore is left. They will divide it in 25:75
You got paid – 78 *75 / 100 = 58.5 Crore.
Cinema owner – 78 – 58.5 = 19.5 Crore.
Overall, you spent 40 +10 = 50 crore. And got 15 crores from selling to satellite right. And 23.5 crore total profit.
Then it is said to be a Hit movie.
---
In reality, the Hindi medium budget was 23 crore and box office earning is 300 crore. Now you can calculate 🙂 The movie industry is a most profitable business therefore many heroes start their own production house.
So, This movie's cycles work. If you like this article don't forget to share it with your friends and family. You can read a more interesting article on this website. Thank you ♥️