Here, are You Looking for Main Jaanu na Lyrics? Then, My Friends, You are in the Right Place. In this, article, we are going to see Main Jaanu na Lyrics and Music Videos.
Main Jaanu na Song is Sung by KhullarG on the Hustle 2.0 Platform. The song Main Jaanu na is written by KhullarG and music produced by KhanPhood Music.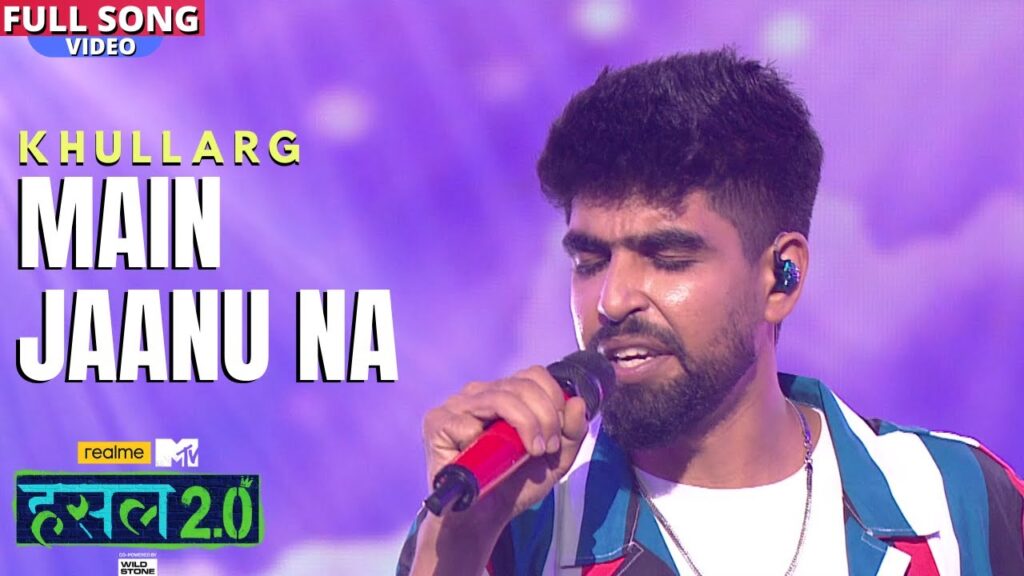 Main Jaanu na lyrics detail
| | |
| --- | --- |
| Song Name | Main Jaanu na |
| Rapper | KhullarG |
| Produced By | KhanPhood Music & Hustle |
| Written by | KhullarG |
Also, Read: Hustle 2.0 Cast, Real Names, and Judges
KhullarG Main Jaanu na lyrics
Starts
Main Jaanu Na…

Jab Thaama Tune Haath Mera Jaane Jaan
Kyun Kari Na Wafa
Main Jaanu Na

Jab Tere Har Mukaam Pe Main Shaamil Thha
Kyun Khada Hoon Veeran
Main Jaanu Na

Bata De Mujhse Door Hoke Kya Mila
Main Kaisa Insaan
Main Jaanu Na

Thha Maanga Rab Se Bohot Par Woh Na Mila
Kahan Gayi Meri Dua

Kaafi Hain Abhi Bhi Baat Cheet
Reh Gayi Hai Karni Jo Baaki
Nashe Mein Baje Hain 4:20 (snp Change)
Mazze Mein Rehta Main Kaaafi
Kaafi Kamaaye Hain Note
Kaafi Lagaaya Hain Zor
Banda Main Solid Hoon Nahi Mera Tod
Music Banata Hoon Ghar Se Main Roz
Par Inn Sabke Peeche Main
Chupke Hee Chupke Kyun
Rehta Hoon Dab Ke

Jaanu Nahi Kabse Thhe Dekhe Yeh Sapne
Palke Jhapakte Hee Sab Lagte Apne
Palke Jhapakte Hee Sab Apne Raste
Kisko Main Kosu

Akela Hee Roke Khud Aansoon Ko Ponchu
Akela Hoon Kyun Yeh Khuda Se Main Poochun
Akela Kyun Dhhota Main Saara Yeh Bojh Hoon
Meri Kya Galti Hain Yaar
Jab Kar Raha Hoon Pate Ki Baat
Bata De Karti Ya Karti Nahi Pyaar
Mujhse Ab Kat-ti Nahi Raat
Sab Kuch Ab Lagta Hai Dark
Ab Raha Nahi Jaata

Main Baitha Confuse, Hain Aankho Mein Dhool
Ya Loon Tujhe Choom, Ya Jaun Main Bhool
Kya Galat Hoon Main, Ya Galat Hain Tu
Inn Saare Sawaalon Mein Raha Hoon Doob

Kisko Main Karu Accuse?

Jaanta Thha Phir Bhi Kyun Hua Main Use
Marzi Hain Teri Main Karta Mehsoos
Ya Galti Hain Meri Main Karta Mehsoos
Ya Chadi Thhi Masti Ya Chadi Thhi Booze
Kyun Feeling Tu Meri Nahi Karti Kabool
Haan Hogi Na Mujh Mein Bhi Kami Zaroor
Ab Hoti Nahi Mujhse Aur Yeh Guftagoo

Jo Pehle Se Tujhe Thhi Lagti Fizool
Main Gaya Thha Bhool Main Alag Hoon Dude
Main Kar Raha Hoon Cruise Iss Duniya Se Door
Hain Bandhan Hazaar Kyun Jaate Nahi Toot
Tu Bas Iss Sawaal Ka Dede Jawaab
Kya Yeh Alfaaz Bhi Jaayegi Bhool

Lage Whiskey Ab Dawa Kyun
Main Jaanu Na
Kyun Khud Se Hee Khafa Hoon
Main Jaanu Na
Mili Kiski Yeh Saza Mujhe Khamakha
Nahi Main Bhagwaan Toh
Main Jaanu Na
Bata De Mujhse Door Hoke Kya Mila
Main Kaisa Insaan
Main Jaanu Na
Thha Maanga Rab Se Bohot Par Woh Na Mila
Kahan Gayi Meri Dua
Main Jaanu Na
Ends
Main Jaanu na Music Video
So, this is all ABout Main Jaanu na Music Lyrics. With Our Custom Script, You can easily Share and Copy the Lyrics of KhullarG Main Jaanu na in One Single Click.
If You Notice any Mistakes in Main Jaanu na Lyrics, Please Let us Know in the Comment Section. So, we can fix it As Soon As Possible.
I Hope, You Find This Article Helpful, and Please Don't Forget to Share Your Favorite Rapper from Hustle 2.0.
Q1: Who sang the Main Jaanu na Song?
KhullarG Sing the Main Jaanu na Song on MTV Hustle 2.0
Q2: Who wrote the lyrics of the Main Jaanu na song?
KhullarG is the Writer of Main Jaanu na Song.