Here, are You Looking for Main Kon Lyrics? Then, My Friends, You are in the Right Place. In this, article, we are going to see Main Kon Lyrics and Music Videos.
Main Kon Song is Sung by RHYME on the Hustle 2.0 Platform. The song Main Kon is written by RHYME and music produced by KhanPhood Music.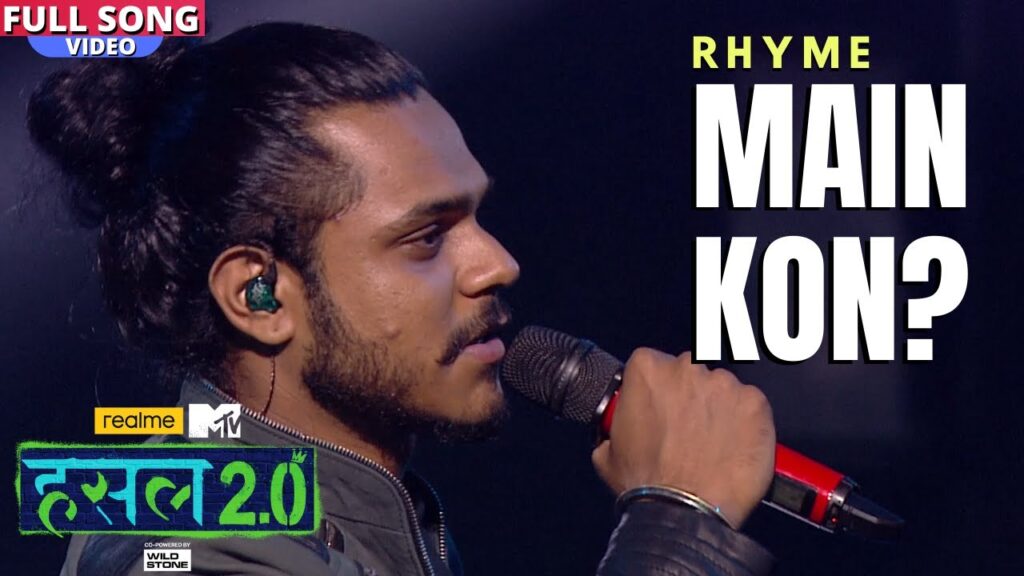 Main Kon lyrics detail
| | |
| --- | --- |
| Song Name | Main Kon |
| Rapper | RHYME |
| Produced By | KhanPhood Music & Hustle |
| Written by | RHYME |
Also, Read: Hustle 2.0 Cast, Real Names, and Judges
RHYME Main Kon lyrics
Starts
Karke Aankhein Band Dekh Leta Sapne Hazaar Woh
Jo Tooti Uski Neend Aur Khuli Aankhein Beech Deewaron Ke Hain Char Woh
Maa Leti Paas Deti Thapkiyan Papa Ka Kare Intezaar Woh
Aate Ghar Thodi Der Se Jo
Zimmedariyon Ka Kandhon Pe Leke Bhaar Rehte Bahar Woh
Na Bhulega Woh Pyaar Ko
Chota Sa Parivaar Woh
Dikhayega Woh Duniya Apni Maa Ko
Unn Dewaaron Ke Hain Par Jo
Woh Ladka Uski Soch Alag
Ek-lauta Beta Maa Baap Ka Umeedo Ka Hain Bojh Alag
Uthaake Kandhon Pe Jo Jaata Woh School
Padhai Mein Na Khaas Jo Padhaaya Jaata Bhool
Aate 50 Mein Se 8 Khaata Badi Daant
Teacher Kare Shikayat Bula Parents Ko Hain Karni Baat
Maa Jaati Uske Saath Aur Sunti Cheezein Chaar
Chhupati Papa Se Padne Na Deti Usey Maar
Maa Kehti Beta Tu Ek Baat Yaad Rakh
Kar Mujh Se Waada Mere Sar Pe Hath Rakh
Karega Jo Bhi Uss Mein Jaan Tu Lagayega
Bharosa Tujh Pe Hain Tu Kaamyabi Paayega
Haarna Theek Haar Maan Ke Nahi Aayega
Girne Ka Khauf Chhod Udna Seekh Jaayega Tu
Yakeen Kar Khud Pe Yaakeen Kar
Raah Ke Beech Na Sochna Lautne Ki Ghar
Yaakeen Kar Khud Pe Yakeen Kar
Nigaahein Aasman Pe Toh Nikal Aayenge Par
Yakeen Kar Khud Pe Yakeen Kar
Jitna Darayenge Yeh Utna Mitega Darr
Yakeen Kar Khud Pe Yakeen Kar
Dabaana Chahenge Log Jhukne Na Dena Sar
Usne Leli Apne Dil Pe Saari Baat Woh Thhi Aankhein Band
Par So Na Paya Uss Raat Woh
Chahta Jo Mili Usey Seekh Pata Baat Woh Phir
Uthaai Kalam Aur Thama Kala Ke Haath Ko
Woh Likhne Laga Gaane Kahaniyan Batane
Thha Pehle Shaunk Ab Junoon Laga Sar Pe Chhane
Woh Hua Bada Dhoondi Job Aur Laga Kamaane
Marne Na Diya Kalakaar Na Diye Bahane
Mehnat Lagayi Toh Mushkilein Lagi Aazmaane
Ucchala Pathhar Karne Chala Chhed Aasman Mein
Patthar Woh Neechee Giraa Jaise Toot-ta Sitara
Kismat Bhi Palti Haunsle Ka Dekh Ne Nazara
Sapne Jeene Ka Mauka Ek Na Soch Dobara
Haan Chhodi Naukri Usne Kala Ne Jo Pukara
Maa Boli Rasta Yeh Bhara Kaanto Se
Chubhte Na Pair Mein Dil Mein Ghustey Seedha Baaton Se
Jo Kabhi Lage Ki Kala Bachi Na Haathon Mein
Ya Kabhi Chale Aaye Aansoon Teri Aankhon Mein
Tu Yaad Rakhna Ke Hamesha Tere Saath Hoon Main
Hain Tujhpe Dhyaan Tere Sar Pe Rakh Ke Haath Hoon Main
Yakeen Kar Khud Pe Yakeen Kar
Mushkil Chadhaan Nazdeek Aata Jab Shikhar
Yakeen Kar Khud Pe Yakeen Kaar
Taash Ke Patton Si Deewarein Jaayengi Bikhar
Yakeen Kar Khud Pe Yakeen Kar
Sikhanj Tere Maathe Pe Ab Koi Sataaye Fikar
Yakeen Kar Khud Pe Yakeen Par
Khadi Hoon Peeche Tere Tu Aage Rakh Nazar.
Ends
Main Kon Music Video
So, this is all ABout Main Kon Music Lyrics. With Our Custom Script, You can easily Share and Copy the Lyrics of RHYME Main Kon in One Single Click.
If You Notice any Mistakes in Main Kon Lyrics, Please Let us Know in the Comment Section. So, we can fix it As Soon As Possible.
I Hope, You Find This Article Helpful, and Please Don't Forget to Share Your Favorite Rapper from Hustle 2.0.
Q1: Who sang the Main Kon Song?
RHYME Sing the Main Kon Song on MTV Hustle 2.0
Q2: Who wrote the lyrics of the Main Kon song?
RHYME is the Writer of Main Kon Song.